Balcones Fifth Anniversary Texas Straight Malt Whisky–Sweet
Balcones Distillery, Waco, Texas; Singlemalt; NAS; 57.5% ABV; Barrel #2653; Bottle 136 of 181; Bottled December, 20 2013
by Sean Fousheé
Disclaimer
This is the first Balcones expression I've reviewed publicly in some time (including my marks on my Instagram). Over the last 18 months I've been working with the team at Balcones as a part-time Ambassador and contract graphic artist (including the re-design of the Balcones website in 2013). And while I always take my whisky seriously, including reviews, I understand if other whisky geeks will approach my comments below with skepticism. But, as always I encourage peer review, and who doesn't like peer reviewing whiskies?
Texas Single Malt
Among this bottling of Straight Single Malt, the Fifth Anniversary series includes two releases of Texas Straight Bourbon; a special, one-off version of their Brimstone, named Resurrection; and a second bottling of Straight Single Malt that was finished in the Resurrection cask (apply designated as Straight Single Malt—Smoke).
All of Balcones' single malt batches are grain to glass, twice distilled in traditional copper pots which were hand crafted by Balcones' Head Distiller, Chip Tate. Tate, whom interned at the Bruichladdich Distillery, distills his whiskies in the traditional Scottish-style, which includes the use of imported Golden Promise malted barley from a small farm in the UK. The traditional distilling methods are the foundation upon which Tate has crafted a unique wood program to utilize the Texas heat in the maturation process which he hopes will create a new category of brown spirits: Texas Whisky.
No caramel added.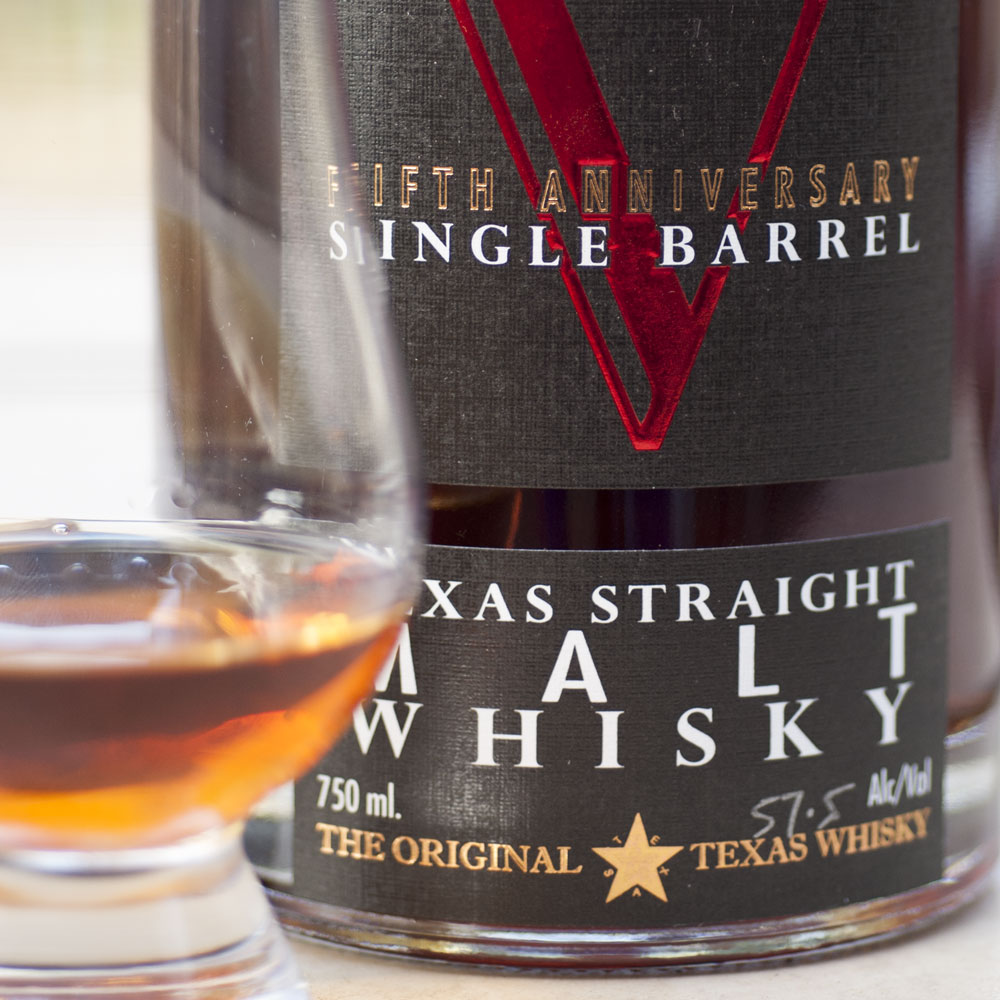 This single barrel release began life like all other batches of single malt from Balcones, but the difference was the length of time this whisky was allowed to slumber in the Texas heat, and the barrel it called home for over two years. Unlike the standard release of Balcones "1" Texas Single Malt, the Fifth Anniversary expressions were matured using a barrel that once held another of Balcones' special spirits: Rumble Cask Reserve. Rumble, a brandy, rum, congac-like spirit, is uniquely Texan made from fermented Texas mission figs, Texas turbinado sugar, and Texas wildflower honey. The influence of the ex-Rumble cask on the malt influenced it's designation, Single Malt—Sweet, or VSM-SWT for short.
Nose
The nose is filled with sweet caramel, vanilla, and buttered toffee, like a homemade vanilla bean ice cream drizzled with thick caramel topping—the extra time spent in the wood really paid dividends here. Ripe stone fruits accompany this sweet bouquet with banana creme, figs, and a hint of mint; while leather and cinnamon notes provide a backdrop.
Taste
The mouthfeel is oily, but not thick. The spices play out first on the palate, cinnamon and white pepper that dissolves into a drop of thick honey, followed by an aromatic waft of wood and stone fruits accented by a hint of chili pepper that finally settles into a buttery fruit finish peppered with more spice.
Finish
Medium in length, but even at 115 proof it's smooth, not biting, and reveals more complexity the longer it lingers. Figs and cloves dance about in the waning moments reminding you that this once spent time maturing in an ex-Rumble cask.
Conclusion
For scotch lovers this is pure jailbait. The look, smell, and taste screams 18+ year old Speyside, but as this is a bottling commemorating Balcones' fifth year of operation that's not possible. Instead, what Chip Tate and the crew at Balcones has done is orchestrated a masterful composition of wood and spirit, using the Texas heat to develop an amazing bottling of Malt Whisky that is mature beyond its years. The only sour note this whisky produces is when you realize they only had enough for 181 bottles. But, with plans already underway to build a new, larger distillery by next year, I'm looking forward to the day when the wait for another bottle of Balcones' Texas Straight Malt Whisky is measured in the time it takes to drive down to my local liquor store.
Whisky Mark
94
/
100
With a cigar...
I tried this malt paired with two different cigars, a La Aroma de Cuba Mi Amor and a Connecticut Nub by Studio Tabac. The Maduro La Aroma enhanced more of the fruits, hints of honey, and burnt sugar; whereas the lighter Nub brought out more of the wood and malt notes, with a slight acidity.